Otis
$7000 reward for the safe return or info leading to the safe return of our boy. No names will EVER be mentioned. I don't care who you are or if I know you. I won't say a word to anyone. We just want him back, that's all. Last seen Parakao, Whangarei on the morning of July 5th 2022.
Otis is knee height and solid black. He is 3, almost 4 years old now. He has a few brindle stripes that are barely visible until right up close to him, they are mainly around his back legs. He is microchipped and not neutered. He has a scar on the upper outside part of his back left thigh. He is very talkative, and would be hating to be caged, chained or locked up and will 'scream' a high pitch squealing sort of sound. He will react to his name as well as a short sharp whistle.
When we got Otis I was working on a farm, from as soon as he was vaccinated I would take him to work with me in my jumper on the bike. As he got bigger he learnt to balance and sit on the bike with me. He'd follow the cows quietly, chase the bike like a madman all over the paddocks. He came in the tractors with me and he loved every second of it because it meant he could be near me all day. All he ever wanted was to be with me wherever I went. We developed a bond so incredibly strong in the short 3 ½ years we were together. I still live right near that farm, though don't work there anymore. Every single day I look out on to it and my heart breaks over and over again. All the memories I made with him are there. The drive home from work every afternoon I hope so hard I'll see him somewhere in one of the paddocks or running up the driveway. Whoever took him you have no idea what you've done. You've torn apart my heart and his. I hope wherever he is he doesn't think I left him or that I did this to him. I would never. I will keep looking for him for the rest of my life. I love you my little man, absolutely forever.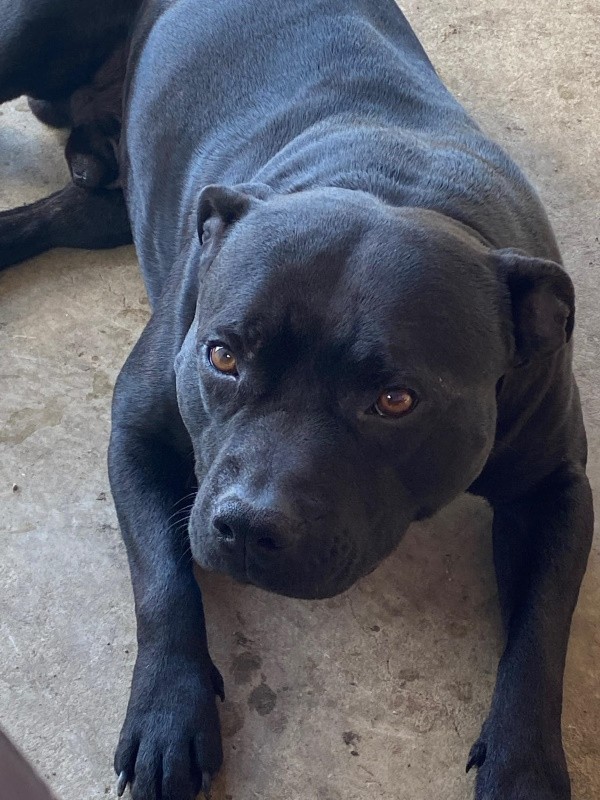 Information
Breed:English Staffy
Size:Medium
Gender:Male
Colour:Black
Coat:Short
Age:3 ½ years
Date Missing:05/07/2022
Location:Drinnon Road, Parakao, Whangarei
Contacts
Phone:02102994251
Email:elleisha@live.com
Facebook:https://www.facebook.com/profile.php?id=100084746950165